Wednesday Walkers
A walking group go on day walks within two hours driving from Oamaru each Wednesday.
You are welcome to join us for the day and no membership is required.
Trip information can be sent to your email address by Tuesday, the day before the trip. If you wish to go on this email list please send your email address to northotagotmc@gmail.com stating your wish to be included in the mail out.
Unless otherwise notified trips will leave at 8-30 am each Wednesday from outside the Towey St. tennis courts, Oamaru . You are welcome to just turn up to be included in that days trip, though be aware that there is the very odd cancellation or time alteration.
See down further under Group Skills and Day Gear Checklist for some things to be aware of on the walk and a recommendation of what to bring.
Recent Walks
Wanderers Wandering Trotters Gorge
Wednesday 1 February 2023
If you are familiar with Christopher Robin's "exposition" to find the North Pole you will recognise the plagiarism.
Eight Wednesday Wanderers set out on an expedition to find Vickers Hut ( Not the North Pole).
With Bart in the front and Catherine at the back, we intrepid explorers negotiated small streams and a "big"🤪 bank until we got to University Hut where we had morning tea, sheltering from a light mizzle (which is somewhere between a drizzle and a mist)
Lead on by Christopher Robin (aka Bart) our adventuresome front runner, we wandered through the native trees to the grassy open, only to have the mystery of "How can we identify the track to take?"
A choice was made and off we set again. We made good progress with not even little rabbit at the tail end dropping out of the mystifying journey.
The scenery changed from trees to spectacular cliffs on our right and then the "nose-clearing" whiff of eucalyptus. 🤔 Hmmm 👏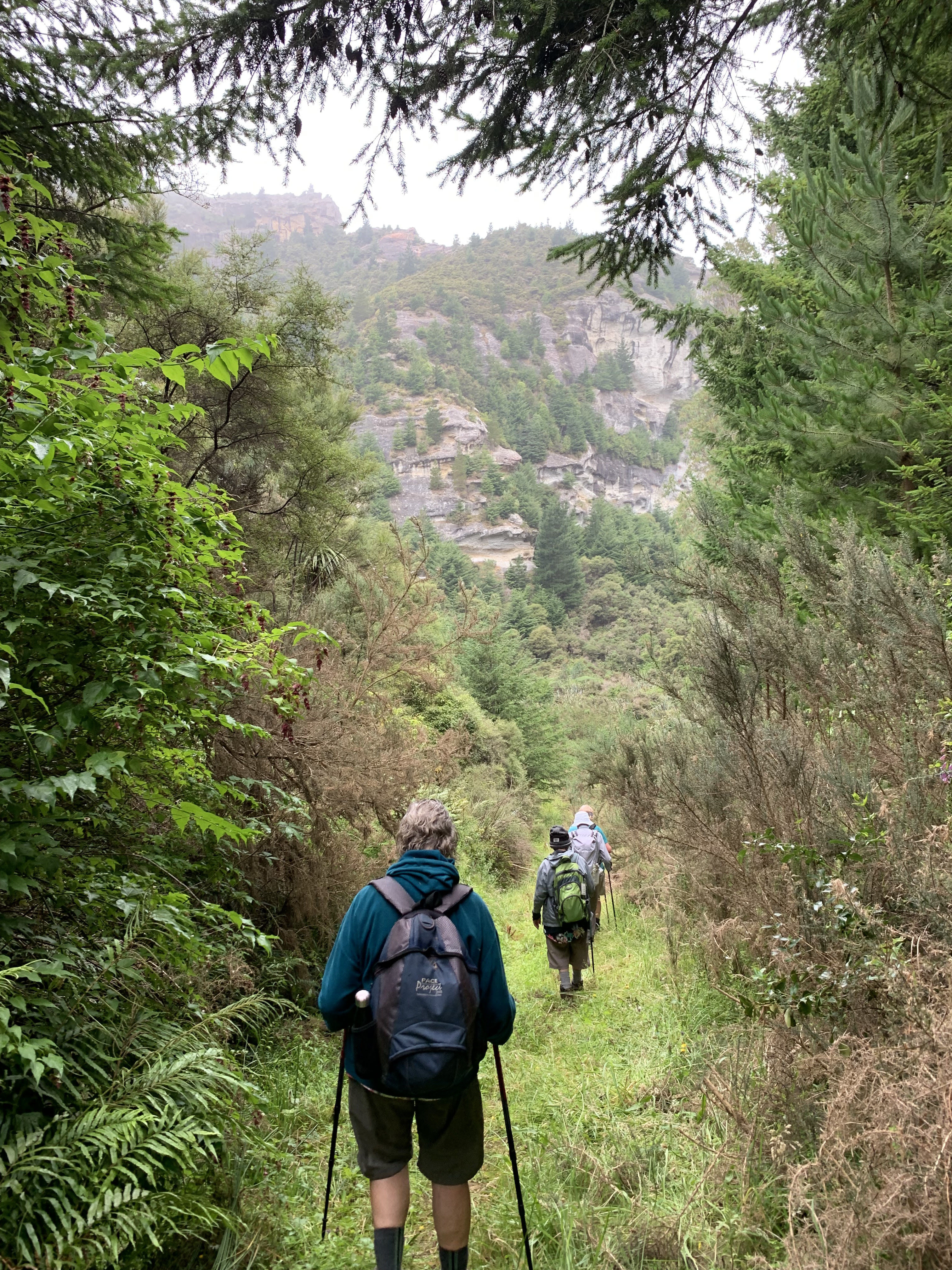 A small group checked out a side track….
They came back down.
Then off we set again and headed up another hill on a reasonably defined track that a four wheeler had conveniently made easier to negotiate.
Two of us did a side reconnoitre towards "Aln's(sp?) Peak, which was aborted.
Judith then led the way, courageously bush whacking though gorse until we reached a high point, where there was a small clearance where we ate lunch, again in a "mizzle".
Back down the hill and, on our return, identified the two side tracks. One to "Dave's Track" and the other to VICKERS HUT👍🏻
All satisfied with our day out including the prospect of walking the nicely cleared track to Vickers hut in two weeks time and the Hampden ice creams.👅
Thank you to those who cleared the track👏
Catherine
Trotters Gorge Trig L
Wednesday 25 January 2023
Weather: Fine, sunny, some light cloud, brisk north-easterly breeze.
Travel: 45km
Trampers: 23
Trip: We had not done this tramp since March 2020 so it was new for some. The 17 Oamaru-based trampers left Towey Street to be joined by five more at Maheno and one at the Trotters Gorge reserve. Before the start, we provisionally divided into two groups: eighteen who intended going up to Trig L, and five who would go in to the hunters hut at the start of the climb and return by the same route.
At 9.15 we set off up the track, crossing the very shallow Trotters Creek six times, and passing through but not stopping at the Otago University Hut compound. We did check out the once-splendid swimming hole which had become almost completely filled in with shingle brought down in floods some years ago.
We carried on up the track past the end of the so-called maintained stretch and turned left to follow Trotters Creek on a track which had been cleared recently by members of the group. Crossing the creek took us into a stretch above the true left that had been largely overgrown but was now clear. Eventually we crossed back to the true right where the track led through farmland. Just after this crossing, at about 10.30, we settled down on a sunny bank for morning tea. The track then followed the right bank , apart from two crossings, undulating its way past the confluence with Pigeon Creek until it came out on an open flat occupied by a substantial hunters hut.
After a relaxed pause, during which the number of those deciding to return by the same route increased to six, the summit party started out on the climb at around 11.30. The first stretch comprised a steep 4wd track winding up a spur. About half way up, the slope lessened as the track angled up the hill to the top ridge of the Horse Range. There, we turned left to climb along a fence line, eventually reaching the summit trig at 12.30. Photos were taken and landmarks identified in the 360o panorama and we settled down among the rocks and tussocks on the sheltered western side of the summit knob for lunch.
After a 3/4 hour stop, we were back on our feet, dropping down off the summit knob and through a gate leading to a ridge which ran down to the south-east. We turned east off this about half way down and followed a track across a broad saddle, past some curious but friendly cattle. A gentle climb took us past some yards to join the Horse Range Road by sliding under the locked gate. From there, it was an hour down the road with time to admire the rocky bluffs and splendid bird song, dominated by bellbirds. Some made a short side trip to visit a cave hidden by pine trees above the road. We reached the cars at 3.15 to re-join the second group who had arrived there an hour earlier after a very leisurely lunch at the hut. Two of this group drove up the Horse Ranger Road to offer a welcome ride to some trampers with tired feet.
A formal debrief at the Maheno pub rounded off an excellent day for all.
Wanderers Coastal Walk
25-1-23
Seven wanderers were we.
>> Parked near by the sea.
>> We set off briskly to the south
>> To the Wainakarua river mouth.
>> A shingle bank held it back
>> The river now became a lake.
>> That's enough rhyming!!
>> We are so blessed to live in the Waitaki District, with such easy access to so many beautiful places. The rock formations south of the river were incredible.
>> As the tide was not fully out we only got as far as the beach beyond the tree skeleton in the photo, where we had morning tea.
> After leaving the beach we tried to, find a way on land to beyond where we'd got to but there had been so much erosion of the cliffs, we couldn't do that without trespassing so…… We explored the south bank of the river and then the north bank. Both sides were overgrown and difficult to navigate. There has been a considerable number of natives planted on both sides of the river. Great to see. We enjoyed the ambience of rippling water while we had lunch.
>> And then on to All Day Bay where we marveled at the life in the rock pools. There were several seekers of a seafood dinner. Pāua, sea snails and octopuses featured in the captured critters.
>> Nearby farmland is suffering the same fate as much of the coastal properties.
>> We finished off our day with ice creams at Kakanui store their liquorice ice cream was a favourite though chocolate featured for at least one
Herbert Forest
18-1-23
16 enj
oyed good conditions for walking today -not so great for swimming, sadly.
All went to the 'top' on diamond Hill Road for lunch, then about half the group came back down the 'loops'. ~8.5km
The other half did 'The Hoods' which took more concentration, with a few oops. ~10.00km including 2 on the road.
Tracks have been well maintained by our North Otago Tramping and Mountaineering Club. Hoods track especially has taken a lot of clearing, initially by Port Blackely chainsaw gangs, of the huge amount of mainly pine tree windfall.
A car shuffle enabled us to miss the Breakneck Road walk.
Tussocky Road – McLeod's Farm
Wed 11 January 2023
A surprising number of twenty-three enthusiastic WW's ignored the doubtful weather forecast for the day, not unlike a recent trip where the forecasted heavy rain did catch us somewhat in the afternoon.
The normal route through the second farm was blocked by a lone Hereford bull who claimed as his, the vehicle track we had been following along the ridge. His body language had this farmer and many others a little concerned so our route was extended somewhat to keep out of his "patch".
The forecasted showers at lunch time did arrive right on cue. There was total agreement that the objective was to find our way back to the cars by the shortest route. Given the fact that we were in very undulating country most of which was unknown to us, more by good luck than good management the chosen track took us back to the cars much sooner than expected by which time the rain had stopped.
However, there was of course a need for most of us, to discuss our strategy of the day in more detail at Enfield in much more pleasant surroundings. Bill B.
Trotters Gorge
Wednesday 4 January 2023
Group Skills
We sometimes walk in places where it is easy to get lost, or fog comes in unexpectedly.
* Always follow the leaders instructions. STAY WITH YOUR GROUP.
* Keep in view of someone with a two way radio. (Note that we carry several 2 way radios and also a Personal Locator Beacon for emergencies.)
* If you think you are lost or unsure where to go, eg. A fork in the track or reduced visibility such as fog, STAY PUT. Make yourself visible with a bright article. Call out or blow your whistle.
Someone will look for you.
* Always let someone know if you are going off the track eg. Toilet stop or photo shoot.
* Look behind frequently to keep the person behind you in view, and also to know where you have walked in case you need to go back.
* The person who opens a gate should close it, or designate someone else who knows how, to do so. Leave all gates as you find them.
Day Gear Check List
The following should be carried with you, no matter how nice the weather is when you leave. Day pack, boots, socks plus a dry pair in the vehicle, water/wind-proof coat with hood, over-trousers, shorts and long johns or long trousers, thermal singlet, shirt, warm jersey/jacket, gloves/mitts, warm hat, sun hat. NO COTTON OUTER GARMENTS PLEASE. This includes jeans as they contribute to hypothermia when wet. Sunglasses, lunch, snacks/emergency rations, full water bottle, sun block, first aid kit, toilet paper, torch, map, compass, whistle, survival sheet/bag, a bright piece of equipment or clothing. Optional Gaiters, camera, walking sticks, spare clothes in the vehicle.
160 Wednesday Walkers Walks
If you have a walk you would like to do, please suggest it at next weeks walk.
ABC Caves
Altavady
Anderson Lagoon – Shag River
Ashlands Rd. – Kemp Rd. Katiki
Aviemore – Mt. Dryburgh
Awakino Ski Field
Awamoko Stream
Balmoral Huts
Ben Ledi
Ben Lomond
Ben Ohau
Benmore Walkway
Benmore Peak
Big Ben
Big Kuri Creek
Bike rides
Black Cap – Scout Hill
Bobbys Head – Pleasant River
Borland Lodge
Boundary Creek
Canyon Creek
Cave Hill
Central Otago Rail Trail
Chinamans Hut
Chinamans Cave
Clear Stream
Cone
Conical Peak
Deep Stream
Devils Bridge Cave
Devils Elbow
Doctors Point
Dome Hills
Domett Loop
Douglas (Rob & Sue)
Earthquakes
Elephant Hill
Evensdale Glen
Flannagans Pass
Fox Peak
Freehold Creek
Gentle Annie Hut
Gibson Farm Walk
Glenthorn Station
Gunns Bush
Golf Course, Waianakarua
Government Hill
Grampions
Gunns Bush
Hamilton Hill
Hampden / Moeraki
Hampden Township
Hillgrove Farm Walk
Herbert Forest
Heywards Point
Island Cliff
Island Stream Waterfall
Kakanui Peak
Kakanui – All Day Bay
Karitane Walkway
Kauru Hill – Fuchsia Creek
Kawairua Station
Kettleholes, Omarama
Kurow Hill, Awakino Gorge
Kurinui Reserve
Lindis Pass / Dalrachney
Little Domett
Livingstone, Beaties Hill
Loman Run
Maerewhenua Gold Diggings
Moana Station
Moeraki Lighthouse
Moeraki walkway
Mopanui
Mt. Alexander
Mt. Alexander Loop
Mt. Bitterness
Mt Cargill
Mt Cook (Not the Summit)
Mt Dalgety
Mt. Dasher
Mt. David
Mt. Difficulty – Allan Rd
Mt Difficulty – Dasher
Mt. Difficulty – Hectors
Mt. Domett
Mt. Dryburgh
Mt. Evelyn
Mt. Fortune
Mt. Grayson
Mt Kirkliston
Mt. Kohurau
Mt Kyeburn
Mt. Mary, Trig J
Mt. Meyer
Mt Michael
Mt Milne
Mt. Miserable
Mt Nessing
Mt. Nimrod (Haka)
Mt Nimrod (East)
Mt Nobler
Mt. Obi
Mt Orr
Mt. Parker
Mt. Peel (Little)
Mt. Pisgah
Mt. Stalker
Mt Studholme
Mt. Sutton, Ohau
Mt Sutton, Waitangi
Mt. Trotter
Mts. Trotter & McKenzie
Mt. Watkin
Ngapara Farms Walk
Noondale Reserve
Oamaru Walkways
Obi, Mitchells Hut
Obi, Mt. Stalker
Obi, Shingle Creek
Orbell's Cave
Otekaike Bridal Track
Otekaike Hill
Peel Forest
Pigeon Bush – Duncan Road
Pigeon Bush – South Peak
Pleasant River, Bobbys Head
Prominent Peak
Puketapu Hill
Pulpit Rock
Quail Burn
Raki's Table / Tunnel
Raki's, Belmont, Victoria Hills
Razorback
Rock & Pillars
Rosella Ridge, Silver Peaks
Roseneath
Round Yards circuit / gorge
Seacliff Reserve
Shag Point
Siberia Hill
Staircase Ridge
Station Peak
Stony Ridge
Suttons Face
Swampy, Leith saddle
Table Top via Wainak Reserve
Table Top via Herbert Forest
Tapui Farm Walk
Te Huruhuru
Temple – North
Temple – South
The Hays
Timaru Walkways
Trotters Gorge Reserve
Trotters Gorge Trig L
Tokarahi Farmwalk
Waihao Walkway, Hotel circuit
Waimate Gorge
Waipiata
Weston Escarpment
White Horse
Woolshed Creek
Wainono Lagoon
Starting place is the Towey St Tennis Courts (see the map at the top of this page) usually at 8-30 am every Wednesday.